ASDS
The African Society in Digital Science
invites you to the 30th anniversary of CARI
African Conference on Research in Computer Science and Applied Mathematics - CARI
Colloque Africain sur la Recherche en Informatique et en Mathématiques Appliquées (CARI)
Tunisia and Cameroon

e African Conference on Research in Computer Science and Applied Mathematics,   is organised under the auspices of ASDS (African Society in Digital Science) in partnership with the Institut National de Recherche en Informatique et en Automatique (Inria), the Institut de Recherche pour le Développement (IRD), the Centre de coopération Internationale en Recherche Agronomique pour le Développement (CIRAD), the International Center for Pure and Applied Mathematics (ICPAM/CIMPA) and the Agence Universitaire de la Francophonie (AUF).
CARI 2022 will be conducted in a mixed format combining face-to-face and online presentations.  The sessions will be held face-to-face at three separate sites: Tunis for the applied mathematics sessions and Yaoundé and Dschang for the computer science sessions. All presentations will also be broadcast live on a teleconference platform.
CARI will be preceded by a CIMPA research school (in Tunis) on "Vert Numérique : biologie mathématique et écologie théorique"  (https://www.enit-lr.tn/CIMPA2022/) whose courses will also be broadcast live.
All relevant information on the different stages (from the call for papers to access to the virtual conference rooms) will be available on the CARI website (https://www.cari-info.org/).
Important dates : 
– Notification of acceptance: May 15, 2022
– Final version: July 01, 2022
Research School : September 24 – October 03, 2022
CARI Conference : October 04-07 , 2022
During the selection of papers to CARI conference we will also select some best papers to be included in a special issue of ARIMA journal.
There is no inscription fees to the conference. Moreover CARI will provide support to some authors to enable them to present their accepted paper on the following conditions:
Only members from African institutions, at the time of the conference, are eligible from a financial support.

Before seeking a support from the CARI an African author  should provide a document from his/her institution stating which part of the expense (eventually none) it agrees to  take care of.

A senior researcher (i.e., neither Doctorate or Post-doc.) is not allowed to ask  CARI to support both his travel expenses and her sejourn expenses (at least one of these should be supported by other means).
Submit your paper on CARI website:  http://www.cari-info.org/
CARI 2020 welcomes and encourages the presentation of methodological contributions in Computer Science and Applied Mathematics. CARI 2020 will provide a forum for students and academic/industrial researchers in order to discuss the most recent trends in Computer Science and Appplied Mathematics  and share innovative research directions for Africa. The CARI conference encourages to submit original and unpublished research work. Contributions covering theoretical developments or  applications dedicated to African issues are invited.  The papers accepted to CARI 2022 will be divided into two tracks (Computer Science and Applied Mathematics) whose topics of interest include but are not limited to the following respective lists:
Computer Science:
– Data Management Systems
– Distributed Systems
– Wireless Networks
– Cryptography
– Cyber Security
– Safety and Correctness of Systems
– Big Data and Data Science
– Artificial Intelligence
– Machine Learning
– Knowledge Discovery and Data Mining
– Decision Making under Uncertainty
– Information Retrieval
– Natural Language Processing
– Semantic Web and Linked Data
– Ontology
– Internet of Things
– Cooperative and User Centric Systems
– Multi-Agent Systems
– Crowdsourcing
– Blockchain
– Visualisation
– Applications: Digital Agriculture, Biomedicine, Smart Cities, e-Government, etc.
Applied Mathematics:
– Analysis of Dynamical Systems,
– Numerical Analysis
– Partial Differential Equations
– Optimization, Inverse Problems and Control
– Stochastic Systems,
– Applied Statistics and Probability
– Image and Signal Processing
– Mathematics and Machine Learning
– High Performance Scientific Computation
– Mathematical Modelling
– Mathematical Finance, Actuarial Science and Economy
– Earth Sciences and Environment
– Mathematical Biology, Ecology and Medecine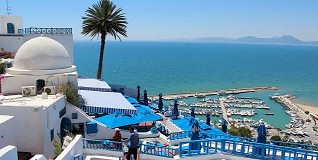 Tunis for Mathematics sessions and CIMPA School
Yaoundé and Dschang for Computer Science sessions